Legal action after norovirus outbreak on P&O cruise from Southampton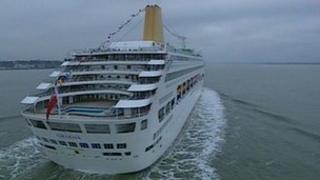 A group of passengers has begun legal action after getting a vomiting bug on a winter cruise.
More than 400 passengers on the cruise ship Oriana were confined to cabins due to norovirus during a 10-day Baltic cruise from Southampton in December.
Law firm Irwin Mitchell, representing 32 passengers, wants information on how the ship was cleaned following an outbreak on its previous voyage.
P&O said it has "stringent" cleaning and hygiene processes on its ships.
Suki Chhokar, of Irwin Mitchell, said: "Everyone who has contacted us for help have had their cruises more or less ruined as a result of the illness outbreak on the Oriana and all of them want answers over how the outbreak happened."
Southampton Port Health Authority confirmed there were 417 cases of norovirus on the ship, which carried 1,843 passengers and departed on 4 December.
A P&O Cruises spokesman said: "All our ships have stringent ongoing cleaning and hygiene policies in place as a part of normal on board operations and if an outbreak occurs it is normally because a passenger has brought the virus on board unwittingly.
"In such circumstances, as was unfortunately the case on Oriana, we then also implement comprehensive disinfection protocols, developed in conjunction with UK and international health authorities."