Hampshire police recruits to get above-minimum starting salary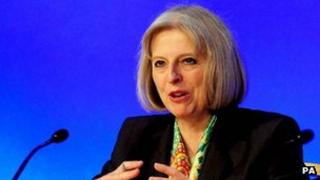 New police constables in Hampshire are set to be among the first to be paid £2,500 above the government-set minimum salary following a review.
From April, new recruits will receive £21,500 starting salaries instead of the recommended cut to £19,000, accepted by Home Secretary Theresa May earlier this year.
The move follows an appeal by Hampshire Police Federation.
It is still a pay cut for new starters, who would have received about £23,000.
'Officers valued'
Hampshire Police Federation said the decision by Chief Constable Andy Marsh and police and crime commissioner Simon Hayes shows the force values its rank-and-file-officers.
Chairman John Apter said: "This recognises the role of the police officer but more importantly demonstrates to those officers already serving that the Chief Constable and the police and crime commissioner value those in the role.
"This decision has been received very positively by those rank-and-file officers who I represent".
Salaries for new Hampshire police constables will rise to £22,000, following initial training.
The move does not require government approval.
'Suitable salary'
Mr Marsh said: "Both the police and crime commissioner and I respect the challenges, demands and sometimes dangers of policing and, to both attract and retain suitable candidates to carry out these roles requires a suitable salary."
Mr Hayes added: "The package we have put together, in consultation with Hampshire Police Federation, is designed to attract the right calibre of candidate, retain the talent we already have within Hampshire and the Isle of Wight thus maintaining an ethical, professional service".
Mrs May accepted the salary cut for new starters in January as part of recommendations on reform made by the Police Arbitration Tribunal.
Under those proposals, the £19,000 salary is to be given to those with the least or no relevant experience - such as those who join at 18.
But some recruits will start on £22,000 if they have some experience, such as time spent as a special constable.
The change in starting salaries will save an estimated £140m over five years.