Storage needed for Isle of Wight carnival bull Zeus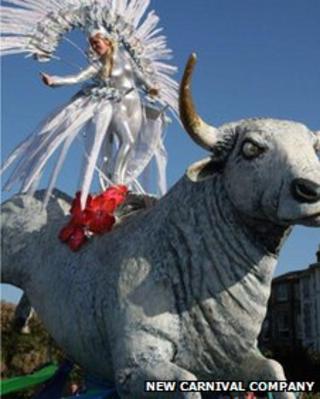 A new home is being sought for a giant papier mache carnival bull on the Isle of Wight.
The 5m (16ft) long bull, named Zeus, must be moved from a Ryde community centre which is undergoing repair work.
Zeus was created in collaboration with Italian artist Umberto Cinquini and has played a leading role in processions on the island and abroad.
Carnival organiser Chris Slann said: "We cannot afford for him to fall into further disrepair"
The structure, which takes at least four people to operate, is already showing signs of flaking. It was created three years ago.
Zeus is inspired by the Boeuf Gras (fattened cow) of New Orleans Mardi Gras and is next due to take part in a parade in June.