Mouse infested Old Portsmouth pub managers fined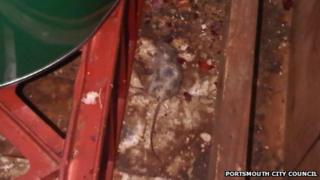 Two men have been ordered to pay more than £4,000 each for running a mouse-infested pub in Old Portsmouth.
Dale Alan, 57, and Ian Young, 60, were prosecuted after droppings and a dead mouse were found at the Dolphin on High Street in February last year.
The pair admitted seven offences under food hygiene regulations while directors of a food business.
They were each fined £3,500 and ordered to pay £890 costs at Portsmouth Magistrates' Court.
'Continuing problems'
Portsmouth City Council, which prosecuted the men, said environmental health officers found mouse droppings in food and equipment cupboards, under work benches and behind freezers in the kitchen.
Droppings were also found under a coffee machine, on shelves for glasses in the bar, in the cellar and on the floor of the restaurant area.
The authority said the kitchen, wash area, bar and cellar were also dirty and food safety records had not been kept.
The pub escaped being closed down by the council when Alan, of High Street, Old Portsmouth and Young, of Kent Road, Southsea, offered to close voluntarily, while urgent action was taken to clean and pest-proof the premises, the council said.
After a few days they were allowed to reopen, but further inspections showed "continuing problems".
The council said the men, who were prosecuted on Tuesday, failed to explain the poor standard of cleanliness and inadequate pest precautions, and had put the health of customers at risk.
Alan Cufley, head of service for environmental health, said such cases were taken "very seriously".