Portsmouth and Southampton 'unite' UK City of Culture 2017 bid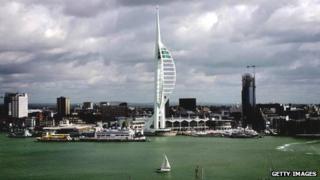 Portsmouth and Southampton have vowed to put their differences aside and unite in their bid to become the UK City of Culture in 2017.
The pair have long been arch enemies when it comes to football, but civic chiefs believe they can better showcase the cities by coming together.
Leader of Southampton City Council Richard Williams believes the unusual pairing can make their bid stand out.
The south coast cities are among 11 places in the running for the title.
Despite being cities in their own right, they are allowed to submit a joint bid in the contest.
The government-led programme was inspired by Liverpool's time as European Capital of Culture in 2008.
Phil Redmond
Portsmouth and Southampton's bid will focus on their maritime and arts heritage.
Southampton has recently opened its SeaCity Museum while Portsmouth is set to unveil its new Mary Rose Museum later this year.
Mr Williams said: "It's a whole new ball game. But if you look at a European level you have cities cooperating in regions to bring inward investment.
"You might have rivalry between a couple of cities in Germany or in Spain that invariably wouldn't be on the same pitch, literally.
"But they are getting together because the big picture here is getting money into the region."
Dom Kippin, literature development officer at Portsmouth City Council, said: "We have a wealth of cultural through our heritage, whether that is individually or together.
"Can I sup with the devil? Of course."
The other English contenders are Chester, East Kent, Hastings and Bexhill-on-Sea, Hull, Leicester, Plymouth, and Southend-on-Sea.
Swansea Bay in Wales and Aberdeen and Dundee in Scotland are also competing.
The chosen place will succeed Londonderry, which is the City of Culture for 2013.
The bids, which must be submitted by 30 April, will be considered by an independent panel, chaired by Phil Redmond, creator of popular TV series including Grange Hill, Brookside and Hollyoaks, and a shortlist will be announced in June.