HMS Dragon leaves Portsmouth on first deployment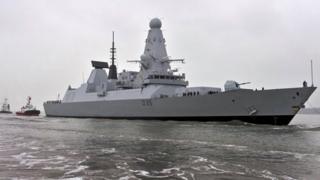 A new Royal Navy destroyer has left Portsmouth on its maiden deployment.
HMS Dragon and its 190 crew will spend seven months in the Middle East and Indian Ocean on "maritime security and counter-piracy" operations.
The Type-45 destroyer, which was commissioned into the Navy in April, left port at 10:30 GMT.
Commanding officer Capt Iain Lower earlier said HMS Dragon had undergone "intense combat system and propulsion trials" to prepare it for action.