King's secret New Forest D-Day visit diary note on show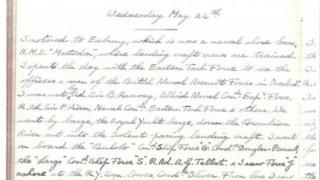 Diary notes made by King George VI after a secret visit to inspect hundreds of D-Day landing craft in the New Forest are going on display.
The king visited the naval training base, HMS Mastodon, at Exbury, in 1944 as last-minute preparations were being made for the Normandy landings.
The diary entry was made available by the Royal Archives to a project run by the New Forest National Park Authority.
In it, King George tells how he sailed down the Beaulieu River to the Solent.
He describes seeing a fleet of more than 300 landing craft and ships from the deck of the command ship HMS Bulolo, just days before Operation Overlord and the campaign to liberate Europe from German occupation.
New Forest Remembers - Untold Stories of World War II is a project to record life in the New Forest during the war by collating photographs and artefacts.
'Unique project'
The diary was made available by the Royal Archives after the Queen learned about the project during her visit to last summer's New Forest Show.
Letters from the time also revealed how a captain at the naval training base barred Wrens from being inspected by the King, but that some sneaked into shrubberies to catch a glimpse of the monarch.
Gareth Owen, project officer, said: "I've been to plenty of Roman and Bronze Age archaeological digs, wondering what it would be like to speak to the people who lived through those times.
"But on this project I've actually been able to do it.
"This has been a unique project, bringing together a wealth of untapped archaeological evidence and written history as well as capturing the memories of those people who are now reaching their 80s and 90s."
So far, more than 170 people have come forward to tell their stories, he said.
Julian Johnson, chairman of the authority, said thanks to the project "these memories will be kept for posterity so that future generations can learn and understand how people lived and experienced those bygone days".
"Not only did the New Forest play a vital part in defending the south coast from an ever-present threat of invasion, later on it became the launching ground for D-Day when a massive concentration of Allied troops and naval personnel were accommodated in the forest, as well as RAF and American airfields.
"It is our responsibility to keep these memories alive."
The diary entry and letters will be displayed at the New Forest Centre in Lyndhurst from 23 March until 28 April.