Shirley Towers fire: Alan Bannon's family in charity abseil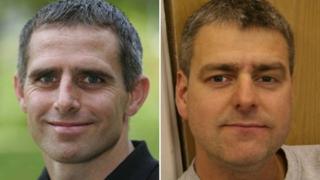 The widow and sister of a firefighter killed alongside his colleague in a tower block blaze in Southampton are to take part in an abseil in their memory.
Alan Bannon and Jim Shears died in the fire at Shirley Towers in 2010.
Charlotte Bannon and Lin Trott will abseil 300ft (91m) down the Spinnaker Tower in Portsmouth on 11 May to raise money for The Fire Fighters Charity.
They have also called on local authorities to take recommendations from the inquest on board.
Coroner Keith Wiseman said high-rise buildings of more than 30m (98ft) should be retro-fitted with sprinklers.
'Dangerous sports'
In his report, released last month, Mr Wiseman also said crews should be equipped with wire cutters to prevent them being trapped by fallen cables.
Mr Bannon's sister Lin Trott told BBC News: "I think within Hampshire fire and rescue the lessons have been learned and a lot of those changes were already implemented before the inquest.
"Where the gap appears to be at the moment would be with city councils. Are they actually going to take on those recommendations?"
Local authorities are under no obligation to implement the recommendations and all Southampton City Council properties complied with building regulations at the time of fire and still do.
Councillor Warwick Payne, member for housing and leisure at Southampton City Council, said many of the recommendations are being put in place while others are being investigated.
'Celebrate their lives'
Speaking about their fundraising abseil, Charlotte Bannon said: "One of the things that Alan was very into was his climbing, abseiling, all his dangerous sports.
"What we have decided to do is abseil 300ft off the Spinnaker Tower, which I'm quite nervous about."
Mrs Trott added: "It's to celebrate their lives and also to give something back to so many of the people that helped us."
An inquest into the two deaths returned a verdict of death by misadventure.
The finding was delivered in conjunction with a narrative verdict which noted the pair died as a result of exposure to excessive heat.
During the inquest the court heard the fire on 6 April 2010, in a ninth-floor flat of the 15-storey block, started after a resident left a curtain resting on a lamp.
Mr Bannon, 38, of Southampton, was pronounced dead at the scene and Mr Shears, 35, from Poole in Dorset, died later in hospital.