Gosport family 'very lucky' to escape boiler explosion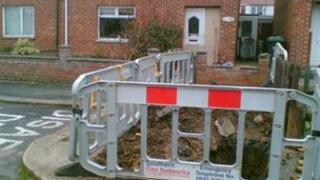 Firefighters say a family of six were "very lucky" to escape uninjured from a fire caused by a boiler explosion at their Hampshire home.
Crews were called to Goodwood Road in Elson, Gosport at 19:45 GMT on Monday where they discovered a fire in an under-stairs cupboard.
The family, aged between 15 and 45, were treated at the scene for shock.
The force of the explosion blew out doors and windows as well as cracking walls in the semi-detached house.
Station manager Paul Coates said: "The explosion was a significant risk to life and the occupiers are very lucky to have escaped.
"The roof was lifted by the force of the explosion and left the walls with cracks in them."