Queue for jobs at Whiteley Shopping Centre recruitment day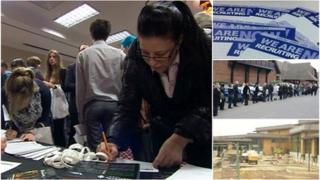 As a long queue grew on a cold Wednesday morning outside a Hampshire hotel, onlookers must have wondered what the draw was.
Was a celebrity in town? Were they offering free spa treatments?
In fact it was the prospect of getting one of 1,000 new jobs on offer at a new shopping centre development that was attracting the waves of people.
Some clutched binders full of CVs, all wanted to make a good impression.
Such was the interest in the job recruitment fair for the redeveloped Whiteley Shopping Centre, organisers were ready for 4,000 people during the day,
The £84m development with 50 shop and restaurant units is due to open in May. It is on the site of the former Whiteley outlet retail park off the M27, which closed in 2011.
It is only one of two major retail developments to open in the UK this year.
'Always hopeful'
With 28,039 claiming unemployment benefit in Hampshire in February 2013, many people from the surrounding housing developments were among those attending the recruitment day.
The fair is the latest in a long line of efforts Kevin Bagley has made to get a job. The 52-year-old from Stubbington previously worked for a building merchants but was laid off two years ago when the construction sector was hit by the recession.
"Last year I applied for over 1,800 jobs and am still looking," he said.
"If you are over 50, people just aren't interested. It's very, very hard. They go on about the kids being out of work - think about the older people as well.
"I'm always hopeful, you've got to look on the bright side. After two years you've got no other choice, you can't go any lower. It's the little things your kids say that pick you back up."
Six hundred people streamed through the doors in the first hour for a chance to talk to representatives from companies including Tesco, Topshop, Clinton's and Harvester about the job opportunities available.
First in the queue was Carol Bramley, 55, from West End, who has been looking for a new job in retailing since January.
"I'm just seeing what opportunities are available," she said.
"It's very difficult now with all the internet sites when you don't have a chance to see people face-to-face.
"You can't go into a shop now and introduce yourself and give them your CV, it's all done online. It's the future but sitting at home all day trawling the internet is very isolating.
"It's very difficult to even get an interview, there are so many applicants."
Among those on the other side of the tables, David Williams of Hampshire-based Montagu's cafe bar is recruiting a new team of managers, chefs, trainees and waiting staff for his new unit at Whiteley.
"There is a lot of talented people come through the door. There are 25 other companies here all looking for the best of the best.
"We've seen people from the forces who are used to leading people, hospitality students, 16-year-olds looking for experience, through to people who are semi-retired.
"I want a mix of people - I need experienced staff in the key roles but we always look to train and develop staff," he said.
'Not picky'
Eighteen-year-old Amy McMullan, from Gosport, was looking for a part-time job to give her enough money to continue her studies and eventually go into fashion design.
"I just need a job - anything will do at the moment, I'm not picky. I need my car to get to college and I'm still living at home so I need money to help out my mum," she said.
Centre manager Neil Carter said the popularity of the recruitment day was "symptomatic of a lot of people out there looking for work".
He insists the new jobs at Whiteley will not be at the expense of existing shopping centres and high streets.
"Each shopping area in this region has very specific selling points - we're not competing with those centres, we have a different offer.
"We compliment the wider area. There is enough consumer spend to go round."
The economic downturn has not dented his optimism either.
He said: "The economic backdrop is challenging but the recession has shaken out that shops need to be in the right place. Retailers are keen to open premises if they are in the right location."