SS Shieldhall project boosted by £1.4m lottery grant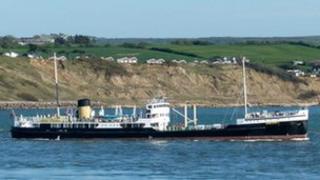 Plans to save a steamship have been boosted by a £1.4m grant from the Heritage Lottery Fund.
The Southampton-based SS Shieldhall was launched in 1955 and is the largest vessel of its type in Europe.
The grant will be used by The Solent Steam Packet Limited (TSSP) for its three-year Saving Shieldhall project.
The charity will improve the ship's hull and passenger facilities and offer "apprenticeships and other learning opportunities for young people".
The Shieldhall was launched on the Clyde and carried sewage sludge from Glasgow out to sea, as well as taking passengers on summer pleasure trips.
Free to roam
It is currently restricted to Solent waters but, after the work next spring, it will carry passengers "way beyond the Solent".
TSSP bought it for £20,000 in 1988, and managing director Graham Mackenzie said: "The award means that in addition to her silver anniversary, we can look forward to celebrating her golden anniversary too."
But Mr Mackenzie added that "further match funding" would be needed to secure the ship's long-term future.