Thorney Hill church appeal to save Phoebe Anna Traquair mural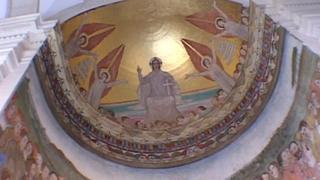 A Hampshire church has begun an appeal for £25,000 to prevent its artworks being damaged following the theft of lead from its roof.
Rainwater has affected some of the interior of All Saints Church in Thorney Hill, which has an acclaimed mural by artist Phoebe Anna Traquair.
Church legacy officer Bob Gee called the mural a "jewel in the crown".
Traquair (1852-1936) was an Irish artist noted for her role in the Arts and Crafts movement.
The mural was painted in the 1920s as a tribute to Lady Constance Manners of the local landowning family.
It includes figures such as William Blake and Alfred Lord Tennyson as well as local scenes of Avon Tyrell and Hengistbury Head.
'National treasure'
The work is thought to be one of only two murals Traquair painted in England.
Churchwarden David Crabb said: "It's a national treasure. People come from miles to see it,
"We were very concerned - a lot of prayers were offered up. Paintings like this can't stand any kind of moisture."
Lead was removed from half of the roof during last month's theft which allowed rain to get into the church, coming close to the mural.
A wooden carving was also ripped from the bell tower.
Mr Gee said: "To lose the mural would have been a complete disaster and the New Forest would have lost a jewel in its crown.
"We can't contemplate anything more happening to the church so we desperately need the money to pay for the repair to the roof and ceiling."
A 33-year-old man from Southampton, two men, aged 18 and 41, from Christchurch and a 13-year-old boy from Christchurch arrested in connection with the theft have been bailed until 12 April.