Heart death woman's family in screening campaign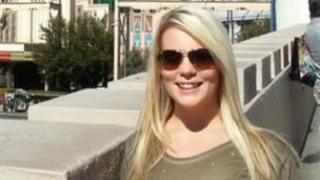 The family of a 22-year-old woman who died from sudden adult death syndrome at friend's hen-party has called for more screening to detect the condition.
Claire Reed, from Botley in Hampshire, collapsed and died last month when her heart stopped working.
She had previously showed no symptoms and was fit and healthy.
Her family is campaigning for cardiac screening to be routinely offered to people under 35 and for defibrillators to be available at all exercise venues.
They have already raised nearly £5,000 to supply a day of screening at a mobile unit in Southampton.
Claire and Andy Reed married last October, five months before her death.
He said: "It almost seemed unreal, so unlucky, that my wife has died of something that I've never heard of, that shows no symptoms at all.
"What chance have you got for someone, who just shows symptoms five minutes before her death.
"It haunts me every time I go through it and kind of relive it."
'Fewer deaths'
Her father, Graham Hunter, said: "We have promised Claire, when we said goodbye that she wouldn't die in vain.
"No other family should have to suffer what we're going through.
"She would want her legacy to prevent others having to go through this."
According to the Cardiac Risk in the Young (Cry) website, at least 12 people aged under 35 die suddenly each week in the UK of previously undetected heart problems.
The organisation, which works to raise awareness of the various conditions that can cause sudden adult death syndrome, said figures suggest a 90% drop in deaths in Italy since mandatory screening was introduced there.
Mrs Reed's family is now supporting Cry's campaign to introduce that here.