Duchess of Cambridge to name cruise ship in Southampton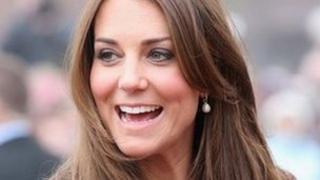 The Duchess of Cambridge is to officially name a new cruise ship in Southampton weeks before her baby is due this summer.
Kate, 31, is to attend the naming ceremony for Princess Cruises' newest liner, the 3,600-passenger Royal Princess, on 13 June.
It will uphold traditions including a blessing and smashing a bottle over the ship's hull.
The duchess is to enjoy a tour of the liner ahead of its maiden voyage.
'Great honour'
President and chief executive Alan Buckelew said Kate's acceptance of the invitation to become "godmother" to the cruise ship is a "great honour".
Princess Cruises said features of the Royal Princess included a glass-bottomed walkway extending 28ft (8.5m) beyond the edge of the ship, the "largest pastry shop at sea" and balconies on all outside state rooms.
The Royal Princess is set to depart Southampton on 16 June.