Gladys Richards: 'Condemned to death' by Gosport hospital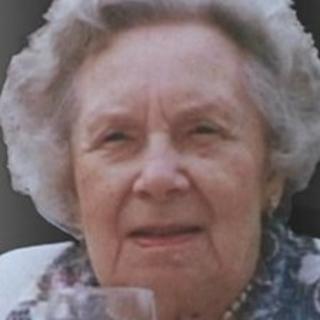 A 91-year-old woman who died at a Hampshire hospital was "condemned to death" by the medication she was given, an inquest has heard.
Gladys Richards was admitted to Gosport War Memorial Hospital (GWMH) in August 1998 to recuperate after a hip operation following a fall.
She died five days later, having been given diamorphine on a continuous basis.
The hearing at Portsmouth Guildhall is expected to last nine days.
Inquests into 10 other deaths at the hospital in 2009 found that drugs were a contributory factor in some cases.
Her daughters Gillian Mackenzie and Lesley O'Brien have campaigned for several years for a full inquest.
Giving evidence, Mrs Mackenzie, 79, from Eastbourne, East Sussex, described how her mother, who had dementia, was living at Glen Heathers Nursing Home in Lee-on-the-Solent when she fell.
She had a hip operation at Royal Haslar Hospital in Gosport and was transferred to GWMH for rehabilitative care.
'Close to death'
But after a further fall she returned to Royal Haslar where the replacement hip was manipulated back into place.
When Mrs Mackenzie visited her mother back at GWMH she found her "moaning" and in "pain".
She was then diagnosed as having a haematoma - a tumour of clotted blood - and Mrs Mackenzie said medical staff told her she was not well enough to undergo treatment for it.
She said she was told by nurse manager Philip Beed: "I am going to make her life easier by giving her a shot of diamorphine."
Mrs Mackenzie said: "I said 'No you will not. Are you talking about a case of euthanasia, as I will not tolerate euthanasia?'"
Explaining her comments, Mrs Mackenzie said: "If they are giving diamorphine to someone who is nowhere near to death, why else is it?
"I said, 'then I would prefer her to go to the Royal Haslar Hospital unless she was so close to death that she would die in the ambulance,' and Philip Beed said 'It's possible'."
Mrs Richards was then given diamorphine administered through a syringe driver - a device which continuously administers drugs.
"She must have had a considerable reserve of strength to survive five days when she had a diet of diamorphine and no hydration whatsoever," her daughter told the hearing.
She added: "I believe a decision was made, for reasons I do not accept, to reject treatment options which would have given my mother a chance to recover, and palliative treatment was commenced and condemned my mother to death."
In 2009, inquests into the deaths of 10 other patients at the same hospital in the late 1990s were held.
The jury found that medication contributed to the deaths of five of the patients and that three of these were given "unsuitable medication".
The General Medical Council later ruled that Dr Jane Barton, who was a clinical assistant at the hospital, was guilty of multiple instances of professional misconduct relating to 12 patients who died at the hospital.
Hampshire Constabulary conducted an investigation into the deaths of 92 elderly patients at GWMH but no prosecutions have been brought.