Southampton knifepoint raids: Further arrests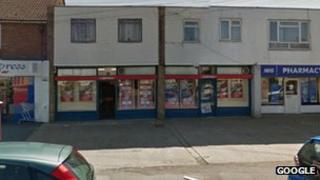 Two further arrests have been made by police investigating four knife-point robberies in Southampton.
The raids included a coffee shop on Friday and a bookmakers, newsagents and off licence on Sunday.
A 31-year-old man and an 18-year-old woman were arrested on Tuesday night on suspicion of robbery.
Two men, aged 18 and 26, also arrested, have been released on bail until 10 June. A third man, aged 53, has been charged with one of the robberies.
The first raid was at Costa Coffee in Antelope Park.
The others were at Thornhill Newsagent in Thornhill Park Road, Ladbrokes in Butts Road, and Grande Wines, also in Thornhill Park Road.
A scuffle broke out at the bookmakers before the robber fled with an undisclosed amount of money.