Stone returned to Ernest Shackleton's grave after 75 years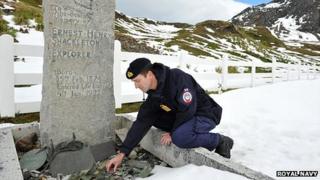 A stone taken from the grave of explorer Sir Ernest Shackleton in South Georgia has been returned by the Royal Navy after more than 75 years.
Sailor Joseph Collis had removed the small piece of green granite as a souvenir when he visited the South Atlantic island on HMS Ajax in 1937.
After the sailor's death, aged 95 in 2012, his son Malcolm pledged to carry out his wishes to return the stone.
HMS Protector crew members have now returned it to Shackleton's memorial.
Shackleton was aiming to circumnavigate the Antarctic continent when he died of a heart attack off South Georgia in 1922.
Joseph Collis is said always to have regretted taking the stone from Shackleton's grave on the island.
After his father's funeral, Malcolm Collis contacted those responsible for the governance of South Georgia to try to arrange its return.
It was arranged for the stone to be passed to HMS Collingwood in Fareham.
The piece of granite was then flown to the South Atlantic and handed to HMS Protector.
The navy's Portsmouth-based ice patrol vessel sailed to South Georgia as part of its support of environmental work on the island, and the stone was finally returned.
HMS Protector's Commanding Officer, Capt Rhett Hatcher, said it was an "excellent finale" to its work on the island.
Mr Collis said: "To know that the stone has finally returned to its rightful place after 75 years is very fitting and I would like to thank the Royal Navy for helping my late father fulfil his long-held wish."