Bletchley codebreaker Raymond Roberts honoured with stamps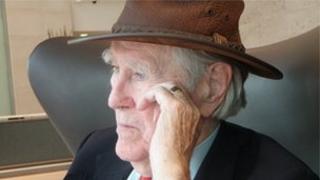 A 92-year-old World War II Bletchley Park codebreaker has had a set of commemorative stamps issued in his honour.
Raymond "Jerry" Roberts from Liphook in Hampshire is the last survivor of a four-man team that cracked the German High Command's Tunny code.
The stamps feature Capt Roberts receiving his MBE from the Queen and his wartime photo.
He said it was "extraordinary" to be on "the same stamp as Her Majesty".
The sheet of stamps has been issued through the post office at Bletchley Park, a World War II code-breaking centre in Milton Keynes.
'Shortened the war'
Only 100 sheets of 20 first class stamps have been released and 25 of those have been reserved for Capt Roberts.
He said of the stamps: "I will clasp them to my bosom."
Capt Roberts was one of four founding members of the Testery at Bletchley Park, which was tasked with breaking Lorenz, Germany's highest-level cipher system.
The team's decrypts are credited with helping shorten the war by at least two years.
The Bletchley Park Trust said Lorenz was an even more complex system than the better-known Enigma.
Capt Roberts was made an MBE in the New Year's Honour's list.
He said: "It is quite extraordinary to be on the same stamp as Her Majesty, not many people have that privilege".