Gladys Richards: 'Very likely' drugs 'hastened death'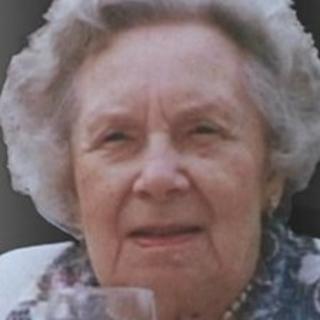 Drugs given to a 91-year-old woman who died at a Hampshire hospital were "very likely" to have hastened her death, a medical expert has told an inquest.
Gladys Richards was admitted to Gosport War Memorial Hospital (GWMH) in August 1998.
She was there to recuperate after a hip operation following a fall.
Prof Robin Ferner said the amount of painkillers and sedatives given to Mrs Richards would normally only be given to someone who was dying.
She died five days later, having been given diamorphine and sedatives on a continuous basis.
Inquests into 10 other deaths at the hospital in 2009 found that drugs were a contributory factor in some cases.
Mrs Richards' daughters Gillian Mackenzie and Lesley O'Brien have campaigned for several years for a full inquest.
Prof Ferner, who has more than 30 years experience, was asked by Mrs Richard's family to put together a report.
He told the hearing there was nothing in Mrs Richards' notes to show why the amount of pain relief had effectively been doubled on 18 August 1998 - at a time when she was already asleep or possibly unconscious.
Fatal dose
Statements from staff suggested, he said, that the reason could have been a massive haematoma - a lump caused by clotted blood.
But the professor said a haematoma was something that would have resolved itself within a few days or weeks.
He said it was not a justification for putting Mrs Richards onto palliative, end-of-life care.
On the day Mrs Richards arrived at the hospital Dr Jane Barton wrote up a wide-ranging diamorphine prescription that allowed her to be given anything from 20mg up to 200mg.
Prof Ferner said the lower dose was appropriate for a frail elderly lady, while the higher dose would have been fatal.
He said although Mrs Richards had been sent there for rehabilitation, the treatment she was given was appropriate for someone who was dying.
Summarising his findings, he said it was "very likely" that the diamorphine and sedatives prescribed by Dr Barton had left Mrs Richards "too drowsy to take fluids, increasing her risk of renal failure and hastening her death".
Consultant Richard Reid, who joined the hospital staff a year after Mrs Richards died, said Dr Barton was "caring and conscientious" and had been doing her best for her patients - in spite of severe time pressures.
He also said that he felt the drugs Dr Barton prescribed for Mrs Richards were "right, and entirely appropriate".
The hearing at Portsmouth Guildhall is expected to last nine days.
In 2009, inquests into the deaths of 10 other patients at the same hospital in the late 1990s were held.
The jury found that medication contributed to the deaths of five of the patients and that three of these were given "unsuitable medication".
The General Medical Council later ruled that Dr Barton, who was a clinical assistant at the hospital, was guilty of multiple instances of professional misconduct relating to 12 patients who died at the hospital.
Hampshire Constabulary conducted an investigation into the deaths of 92 elderly patients at GWMH but no prosecutions have been brought.