Gosport hospital death: Gladys Richards 'had look of dying woman'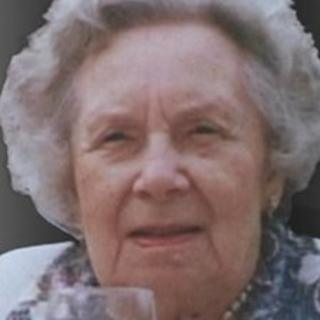 A doctor has told an inquest that she could tell her patient was dying by the expression on her face.
Jane Barton was speaking in the case of Gladys Richards who died at Gosport War Memorial Hospital (GWMH) in 1998.
The 91-year-old was sent there to recover from a hip operation but died after being given diamorphine.
Her family has accused the hospital of "condemning" Mrs Richards to death, but Dr Barton said she was trying to relieve her suffering.
Inquests into 10 other deaths at the hospital in 2009 found that drugs were a contributory factor in some cases.
Hampshire Constabulary investigated the deaths of 92 elderly patients at GWMH but no prosecutions have ever been brought.
The inquest has heard Mrs Richards' family thought she was going to the hospital for two to four weeks to recover from a hip operation after a fall.
'Haunted, harrowed expression'
Dr Barton said it was likely Mrs Richards may already have been dying and that her chances were 50/50.
Mrs Richards subsequently suffered another fall, was transferred hospitals and had additional surgery.
Those factors reduced her chances of survival, Dr Barton said.
She told the coroner she could tell she was dying by looking at her.
Asked to explain, she said it was the "haunted, harrowed expression" on her face.
The doctor then defended her decision to approve the continuous administration of diamorphine through a syringe driver.
She said it was not her intention to hasten death, only to relieve pain.
The coroner asked if she was surprised Mrs Richards had taken five days to die.
Dr Barton said: "We often saw in terminally ill patients that diamorphine seemed to keep them alive rather than kill them.
"It seemed to keep them alive until something like bronchial pneumonia came along and killed them."
A General Medical Council panel ruled in 2010 that Dr Barton had been guilty of multiple instances of professional misconduct, although she was not struck off.
The inquest at Portsmouth Guildhall is expected to finish on Friday.