Jamie Dack murder trial: Man 'tortured, killed and set on fire'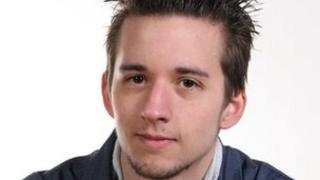 A homeless young man was beaten and tortured to death before his body was dumped in a bin and set on fire, a court has heard.
The body of Jamie Dack, 22, was found by fire crews in an industrial bin in Southampton on 8 April last year.
Ryan Woodmansey, 31, Andrew Dwyer-Skeats, 26, and Donna Chalk, 21, all deny murder.
The jury heard how they locked Mr Dack in a flat and attacked him with a baseball bat, bottles and knives.
Mr Woodmansey, Mr Dwyer-Skeats and a third man, Lee Nicholls, 28, carried out the attack while Ms Chalk "egged them on", the prosecution told Winchester Crown Court.
The next day, they killed Mr Dack to stop him from going to police about the attack, during which they had forced him to reveal his bank Pin code and stolen his laptop, the court heard.
'Went to rave'
Nicholls changed his plea to admit murder while giving evidence during a previous trial, which was then halted, the jury was told.
He will be sentenced after the retrial of his friends.
Mr Dwyer-Skeats and his girlfriend Ms Chalk claim they had left after the initial attack, on Good Friday last year, to go to a rave in Bournemouth.
Nicholls stayed in the flat with Mr Dack, who was still alive, but when they returned the next morning he was dead.
But prosecutor Jonathan Fuller QC said that account of events was untruthful and "a put-up-job intended to pin the blame for the killing on Lee Nicholls".
Mr Woodmansey has admitted taking part in an attack on Mr Dack.
He told police he had taken it in turns with Nicholls and Mr Dwyer-Skeats to stab him.
All three defendants have admitted perverting the course of justice by cleaning up the flat and Mr Woodmansey and Mr Dwyer-Skeats by helping to set fire to the body.
The jury is due to to be taken to the flat in Bevois Mews where Mr Dack was killed.
They will also be shown the route the men took as they transported his body inside a wheelie bin to the Empress Road industrial estate.
They were stopped on their journey by police but were allowed to continue, the court heard.
Mr Dack's charred body was found by firefighters called to deal with a bin fire in the morning on Easter Sunday.
Post-mortem tests showed he had been stabbed before being set on fire.
The trial was adjourned until Tuesday.