HMS Affray submarine memorial unveiled in Gosport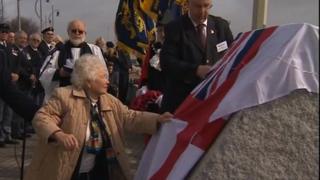 One of three surviving widows of 75 servicemen who died in a submarine tragedy has unveiled a new memorial.
HMS Affray was on a training exercise off Alderney in the Channel Islands when it went missing in April 1951.
It was the last Royal Navy submarine to be lost at sea. It was found two months later 7.5 miles off the north west of Alderney at a depth of 280ft (85.3m).
Mary Henry, from Emsworth, whose husband Derrick Foster died, attended a ceremony in Gosport earlier.
"I feel that they've been done justice at last - it's been 62 years, a long time," she said.
Snort mast
HMS Affray left Portsmouth on 16 April, 1951 and submerged about 30 miles south of the Isle of Wight at 21:15 BST. It failed to resurface when it was due to at 08:30.
Seventy-one Royal Navy personnel and four Royal Marines were on board.
A search and rescue operation was launched, involving 26 ships and submarines along with available aircraft.
It was found off Alderney two months later. No attempt was ever made to raise it to the surface.
The Royal Navy's official inquiry concluded HMS Affray sank because the snort mast, the tube through which the diesel engine "breathed" while the submarine was at periscope depth, snapped because of metal fatigue.
There had been concerns about the submarine's mechanical condition before it sailed.
Mrs Henry's said her husband had told her he thought the boat was "unseaworthy".
"That is what has always upset me so much," she said.
Another memorial to the tragedy was unveiled at Braye Harbour in Alderney last year.