Jamie Dack bin body trial: 'Photos taken before murder'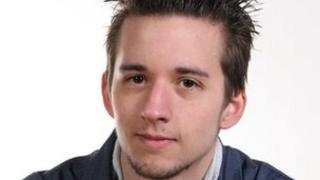 Photographs of a bloodied and tortured homeless man were taken on his mobile phone before he was murdered and his body torched, a court has heard.
Fire crews found the charred body of Jamie Dack, 22, in an industrial bin in Southampton on 8 April last year.
Four images were recovered after police found his smashed phone in a bin outside the flat where he was attacked.
Ryan Woodmansey, 31, Andrew Dwyer-Skeats, 26, and Donna Chalk, 21, deny murder.
A previous trial was halted when Lee Nicholls, 28, changed his plea to admit murder.
He will be sentenced after the retrial of the remaining defendants.
The jury heard the group attacked Mr Dack with a baseball bat, bottles and knives in the Bevois Mews flat in Southampton, forcing him to reveal his bank account Pin number and stealing his laptop.
They later killed him to prevent him contacting police, Winchester Crown Court heard.
Jurors were shown the phone images of Mr Dack taken before he died showing him first fully clothed and later stripped to the waist with bleeding arm wounds.
'Simmering dislike'
Jonathan Fuller QC, prosecuting, said: "It must have been after that that those knives went in again and he was killed."
Mr Fuller said Nicholls initially wanted to steal from Mr Dack so he could go to a rave in Bournemouth with ex-girlfriend Amber Patterson.
But Nicholls developed a "simmering dislike" of Mr Dack after Miss Chalk made allegations leading he and Mr Dwyer-Skeats to believe he had "interfered" with her.
Miss Chalk's allegations that Mr Dack "pestered" Amber Patterson "upped the ante", the court heard.
Jurors heard it appeared Mr Woodmansey was driven by his desire to steal.
He said Mr Woodmansey, Miss Chalk and Mr Dwyer-Skeats went to a rave in Bournemouth on Good Friday after Mr Dack's death.
They returned the next morning and Mr Nicholls joined them at the flat.
'Extensive' blood stains
The four were arrested after Mr Dack's body was discovered at Empress Road industrial estate.
Earlier jurors heard forensic tests on the flat revealed "clear evidence" of a clean-up and "extensive" blood stains.
Tests on a baseball bat found on a work surface also revealed blood stains, the court heard.
Mr Woodmansey has admitted taking part in an attack on Mr Dack.
The defendants admit perverting the course of justice by cleaning up the flat and Mr Woodmansey and Mr Dwyer-Skeats by helping set fire to the body.
The trial continues.