'Naked rambler' Stephen Gough appears nude in court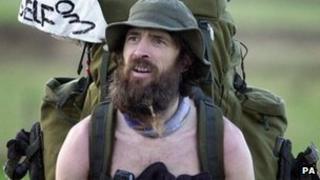 A judge has asked a man known as "the naked rambler" to wear clothes for future appearances after he attended court naked.
Stephen Gough, 54, pleaded not guilty to breaching an anti-social behaviour order banning him from going nude in public places.
He was remanded in custody for trial on 19 June.
Judge Guy Boney QC at Winchester Crown Court said he should appear "suitably clothed".
Mr Gough, of Chamberlayne Road, Eastleigh, is alleged to have breached the order on the day it was imposed by magistrates in Southampton when he showed his buttocks and genitalia in public after leaving the court on 28 February.
The hearing was told that Mr Gough would be using Article 10 of the Human Rights Act - freedom of expression - as part of his defence.
The judge said: "I have done you the courtesy of keeping my clothes on while hearing this case.
"I'm sure that the judge trying your case would appreciate you appearing before him suitably clothed. Do you understand?"
Mr Gough replied: "I understand."
There was no application for bail.