Military parade in Emsworth marks St George's Day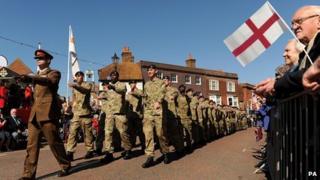 Troops marched through a Hampshire town during a military parade to mark St George's Day.
A total of 100 soldiers from 12 and 47 Regiments Royal Artillery were led through Emsworth by the band of the Royal Logistics Corps.
They were supported by 65 veterans including some who served in the Korean War.
Crowds clapped, cheered and waved flags as the parade was led through the town.
Havant Borough councillor Brendan Gibb-Gray, who organised the event, said: "It was an occasion that made you proud to be British."