Illegal immigrants found in Portsmouth lorry deported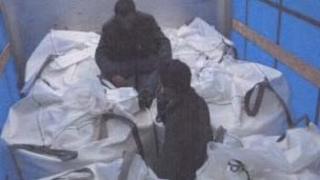 Two illegal immigrants discovered hiding in a lorry at Portsmouth ferry port have been removed from the UK.
The pair, aged 29 and 30, were found in the lorry among a load of stone on its arrival from Caen in France on Wednesday.
The men, from Albania, had cut through the lorry trailer's canvas roof and sewn the gap up once inside in a bid to avoid being found.
The pair were detained by Border Force officers and later taken back to Caen.
The lorry was allowed to continue to its destination in the Blackburn area.
The authorities had been alerted by the ferry operator after the two men were seen running around the port of Caen before the vessel departed.
Andy Lumb from Border Force said: "Clearly these two men thought they had covered their tracks but were found thanks to the assistance of the ferry operator and determination of our officers."