Portsmouth Liberal Democrat MP Mike Hancock 'could be suspended'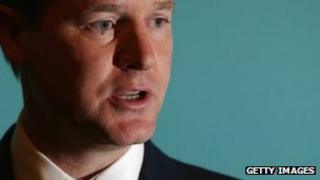 A Lib Dem MP could be suspended over an allegation of inappropriate conduct, Nick Clegg has said.
Portsmouth South MP Mike Hancock is being sued in a High Court civil action by a female constituent who contacted him for help in a neighbour dispute.
Mr Hancock said he would "vigorously" defend himself against the claims.
Party leader Nick Clegg said he had spoken to the chief whip about the possibility of suspending the MP. A party meeting will be held on Monday.
Speaking on LBC radio, the deputy prime minister said: "As leader of the party, you have got to react when allegations of this seriousness are made, you can't just sit there on your hands.
"When I heard yesterday that court papers had been served for some very serious allegations - which I have to stress he denies completely, which when the police looked at it they didn't take further action, so I'm not prejudging that case - I immediately asked our chief whip to start disciplinary proceedings including the possibility of suspending the party whip."
The party confirmed Mr Clegg has asked Chief Whip Alistair Carmichael to convene an urgent meeting later under the disciplinary procedures of the parliamentary party between himself, Mr Hancock and deputy leader Simon Hughes.
A spokesman confirmed the meeting will take place in Westminster on Monday afternoon.
Russian spy
But Mr Hancock said he had heard nothing about a meeting.
He added: "I'm in Portsmouth, I can't be in two places at once.
"I have medical appointments today and tomorrow, that's the biggest priority in my life at the moment.
"I have had no contact with the party at all today... I think it's all a bit odd."
A Liberal Democrat spokesman said Mr Clegg would make no further comment until after a meeting had taken place.
Mr Hancock is also accused of breaching the code of conduct at Portsmouth City Council, where he is also a councillor.
Portsmouth City Council has not revealed details of the separate allegation.
The MP was arrested on suspicion of indecent assault in 2010 but never charged.
He was accused of "inappropriate behaviour", which he denied, towards a female constituent following a series of visits he made to her home.
It was alleged he placed his hand on her breast, exposed himself and kissed her without consent.
Mr Hancock hit the headlines in 2011 when he had an affair with his aide, Katia Zatuliveter, who was accused of being a Russian spy.
But the Special Immigration Appeals Commission said it had seen nothing to support the allegations against Miss Zatuliveter and she won an appeal against deportation.
Mr Hancock has been an MP since 1997. He had major heart surgery last year after suffering from angina.