Private firm to run Lymington seawater lido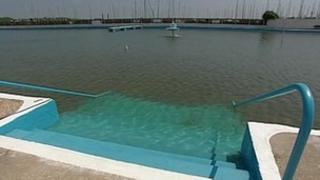 A seawater lido in the New Forest is to be handed over to a private firm to run.
Councillors approved a deal which will see a local businessman take over the running of the open-air pool in Lymington, at a meeting on Wednesday.
The council said the 180-year-old lido which made a loss of £49,000 last year had become too expensive to maintain.
It will be taken over by Hugo Ambrose on 1 July.
Some residents raised concerns over the amount of swimming space following the revamp.
New plans for the 120m x 50m pool include zorbing, kayaking and an inflatable obstacle course.
Mr Ambrose said: "We've allocated a third of the pool to swimming if there's demand.
"We would love there to be more swimmers."
Councillor John Olliffe-Cooper said the pool, which had 12,000 visitors a year, made a "thumping" loss in 2012.
He said: "The bottom line is that we will have a much better facility and will be dragging money into the town."