Royal Navy warship HMS Edinburgh decommissioned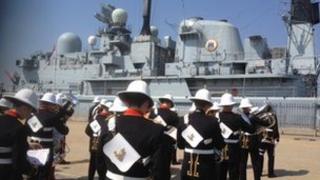 The last of the Royal Navy's Type 42 destroyers has been decommissioned in Portsmouth.
HMS Edinburgh's 270-strong ship's company and senior naval officers were present at the 50-minute ceremony when the white ensign was lowered for the final time.
An RAF Typhoon, Lynx helicopter and a Sea Fury from the Royal Navy Historic Flight performed a flypast.
Commanding officer, Cdr Nick Borbone, said it was a "poignant day".
He said: "It is also a day of celebration when we remember the 40 years of faithful service that the fighting 42s have given, manned by dedicated men and women, proud to serve in this world renowned class of ship."
Namesake city
Lady Heseltine, who launched HMS Edinburgh in 1983, inspected the ship's company, accompanied by her husband, former defence secretary Lord Heseltine.
Former commanding officers and dozens of Type 42 veterans were also at the ceremony.
The 30-year-old ship, the largest of its type built for the Royal Navy, returned to Portsmouth for the final time on 31 May following a farewell tour, which included visits to its namesake city and Liverpool, where it was built.
The ship's decommissioning is part of the government's Strategic Defence Review announced in 2010, which will see the Royal Navy's surface fleet cut from 23 to 19 ships.
The Type 42 destroyers are to be replaced with Type 45 vessels, which are double the weight and carry the latest missile technology.