Royal Princess liner arrives in Southampton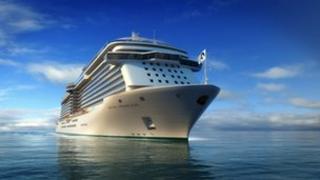 A new 3,600-passenger liner has arrived in Southampton.
The Royal Princess sailed into the city to boats' horns playing God Save the Queen conducted from the dock-side by actor, Simon Callow.
Once docked, its horn played the theme song from the 1970s and 80s television show The Love Boat.
The Duchess of Cambridge will become "godmother" to the cruise ship, naming the liner on 13 June ahead of its maiden voyage on 16 June.
Princess Cruises said features of the Royal Princess included a glass-bottomed walkway extending 28ft (8.5m) beyond the edge of the ship with views, 128ft (39m) down.