Isle Of Wight bees to be protected in Highways PFI project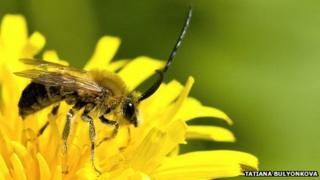 Conservationists have welcomed an Isle of Wight plan to protect its wild flower and bee population on roadsides.
An island 25-year road upgrade scheme currently includes cutting back all vegetation from rural verges, but the council is set to overturn this.
Entomologist Steven Falk said carefully managed road verges had "a critically important role to play in promoting healthy populations of bees".
The Bumblebee Conservation Trust (BBCT) also welcomed the council's new plans.
'Life-giving arteries'
Mr Falk, from invertebrate conservation trust Buglife, said "The Isle of Wight has long been recognised as one of the most important parts of Britain for wild bees and still supports many of our rarest species."
Rare species include the long-horned bee and the potter flower bee.
The county's multi-million pound Highways Public Finance Initiative (PFI) scheme will upgrade the entire road network, as well as footways and cycle routes.
The Isle of Wight Council will meet Highways PFI project contractor, Island Roads, to discuss ways of preserving roadside wildlife.
Options being explored include leaving swathes of roadside vegetation free for bees and other wildlife, as long as highway visibility is maintained.
BBCT conservation manager Gill Perkins said she was "encouraged" by the council's plans and said roadside verges "can be life-giving arteries of the countryside" as they act as "vital corridors for bees and other wildlife to thrive on".