Stanbridge Earls School announces closure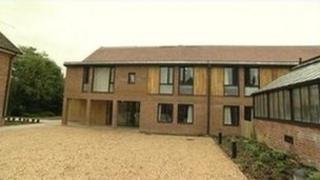 A school in Hampshire, criticised for its handling of a pupil's claim that she was raped by students, is to close.
A letter published on the Stanbridge Earl School's website said it was "experiencing many difficulties... which are a legacy of past events".
A Surrey-based charity will take it over and run a new school on the Romsey site.
A second inspection of Stanbridge Earls in May said it was failing to meet national minimum standards.
A letter from Maggie McMurray, interim head teacher at the school for children with special educational needs, said it would close on 1 December.
In it she said there were "concerns" over the school's financial position after many local authorities decided not to place pupils there after unfavourable Ofsted reports.
In May, the watchdog called on the Department for Education to ensure the school's leadership is immediately improved - or close it.
At the time, the school said it did not accept the terms of the Ofsted report.
Regulatory action
In January, an education tribunal found the school had failed to protect a pupil who claimed to have been raped twice by fellow students.
It was also found to have discriminated against the pupil, who cannot be identified for legal reasons, by excluding her following the allegation.
Ms McMurray replaced previous head teacher Peter Trythall in April, after he stepped down.
The new school is expected to be a sister establishment to Gard'ner Memorial's More House School in Surrey.
A series of meetings for parents to quiz the governors and head teacher about the plans has been organised.
A Department for Education spokesman said he was aware of the proposals for Gard'ner Memorial to take over Stanbridge Earls and run a new school on the site.
He said ministers would study the findings of the most recent Ofsted report before announcing any regulatory action.