Royal Navy 'tried to declare missing sailor Timmy MacColl dead'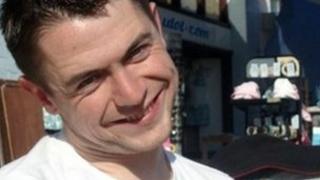 The Royal Navy has tried to declare a missing British sailor dead without speaking to his family in person first, an MP has claimed.
Leading Seaman Timmy MacColl from Gosport disappeared in May 2012, during a visit to Dubai by HMS Westminster.
Caroline Dinenage, Tory MP for Gosport, said the 28-year-old's wife Rachael and their three children now faced an uncertain future.
The Royal Navy said she was being kept informed of all developments.
Leading Seaman MacColl, originally from Killin in Stirlingshire, was last seen at 02:00 local time on 27 May 2012.
'Emotional strain'
In a question to Justice Minister Helen Grant in the Commons, Ms Dinenage said: "The Royal Navy are now seeking to get a certificate of death without any face-to-face consultation with his wife.
"On top of the emotional strain of this, it also casts a question mark over their financial future and indeed where they will live.
"Can you tell me to what extent the justice department can liaise with the armed forces in cases such as this and to ensure that the family are much better involved in such decisions?"
In response Ms Grant said: "The Ministry of Defence has its own procedures for presumed missing service personnel to be [declared] dead and it does not liaise with the Ministry of Justice in individual cases."
She added she was happy to speak to Defence Secretary Philip Hammond about the case on behalf of Ms Dinenage.
'Simply unacceptable'
A Royal Navy spokesperson said: "There is regular contact between the Royal Navy, and its representatives, and Mrs MacColl. She is being kept informed of all developments.
"We have provided Mrs MacColl with written assurance over her husband's status, for pay purposes, and assurance of her eligibility to remain in their married quarter."
The Royal Navy said its responsibility was to Mrs MacColl as the next of kin and added it would continue to support her.
Speaking outside the chamber, Ms Dinenage said it was "simply unacceptable" to exclude the family from decisions about requesting a certificate of death.
"I think Rachael and the family feel now that it is unlikely that Timmy is going to be found safe and well, and they have kind of prepared themselves [for] when the news comes it will not be good news," she said.
She added it was very important the family were engaged with in a decision like this.
Rachael MacColl's grandfather, Jim Cunningham, said: "I find it highly unethical that the Royal Navy did not have the decency to consult with Rachel on the matter and invite her to participate.
"She is unaware of the advantages and disadvantages of the Royal Navy applying for a presumption of death."