New Mary Rose museum visitor surge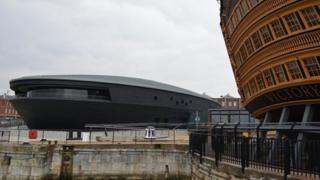 More than 52,000 people have visited the purpose-built museum for Henry VIII's flagship, the Mary Rose, in the month since it opened in Portsmouth.
The new £36m complex in the Portsmouth Historic Dockyard has reunited the Mary Rose wreck with many of the 19,000 artefacts discovered with it.
The Mary Rose Trust said the global media interest and early visitor numbers had "exceeded expectations".
The ship had previously attracted about 200,000 visitors each year.
Rear Admiral John Lippiett, chief executive of the trust, said: "To see [visitors'] reaction to what we have achieved is wonderful and is a great credit to everyone's hard work in building this remarkable museum."
The ship was discovered in 1971 and raised from the seabed of the Solent in 1982.
It had seen 34 years of service before it sank while leading an attack on a French invasion fleet in 1545.
For the next four years the timbers will be kept in a "hot box" chamber to be dried out but visitors to the museum are able to view them through windows.
As well as the wreck, the museum also displays artefacts including the skeleton of Hatch, the ship's dog.
The areas of the ship where the crew lived and worked, such as the surgeon's cabin and the gun deck have been recreated.
Up to 500 men and boys died when the ship sank and the museum has been dedicated to them.