Timmy MacColl: Wife rejects Gosport MP's claims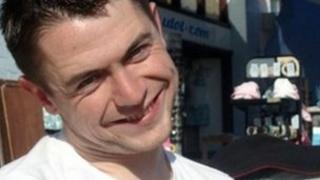 The wife of a missing British sailor has rejected an MP's claim the Royal Navy tried to declare him dead without speaking to her.
Leading Seaman Timmy MacColl, 28, from Gosport, vanished in May 2012, during a visit to Dubai by HMS Westminster.
On Tuesday Caroline Dinenage, Tory MP for Gosport, said the navy had not spoken to his wife Rachael before seeking a certificate of death.
However, Mrs MacColl said the Royal Navy had kept her fully informed.
In response Ms Dinenage released a statement saying the comments painted "a very different picture" to the information the family had given her.
Leading Seaman MacColl, originally from Killin in Stirlingshire, was last seen at 02:00 local time on 27 May 2012.
'Incredibly painful'
In a statement issued via the Royal Navy, Mrs MacColl said: "I have been kept informed by and fully engaged with the Royal Navy with regards to all aspects of my husband's disappearance.
"Despite the recent media coverage, the Royal Navy has quite rightly refused to discuss the very sensitive details of this case in public.
"I can confirm that the Royal Navy has been discussing the process of registration of death for Timmy with me.
"This is incredibly painful and I do not wish to discuss this any further in public.
"I can say, however, that no application has been submitted to date."
In her statement Ms Dinenage said: "I'm absolutely delighted if by raising this question (which I did with the full knowledge and backing of the family) it has made a positive impact on the way that the Royal Navy engage with Rachael when making decisions about her future moving forwards."