Hampshire mother calls for changes to Bounty marketing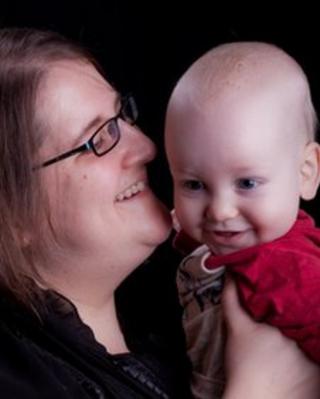 A Hampshire mother has added her voice to a national campaign to stop marketing at the bedside of new mothers in hospital.
Katie Elliot, 33, said she felt "vulnerable" after being approached by a Bounty representative at Basingstoke and North Hampshire Hospital.
She was recovering from a caesarean section when a sales rep for "the UK's largest parenting club" turned up.
Bounty said it was a trusted service used by the NHS for 50 years.
It said independent research amongst midwives into its services shows satisfaction levels at 90%.
Bounty sales representatives can visit mothers just hours after a birth in NHS hospitals to offer free packs, Child Benefit claim forms and charged-for services.
'Vulnerable time'
However, Mrs Elliot, a freelance journalist, said she was not happy about being approached by a marketing representative while in hospital.
"I was bed-bound for 24 hours ... I hadn't slept and I felt extremely gross," she said.
"The next thing I knew there was a woman at the end of my bed with a trolley, and she was asking for my personal details," she said.
"I appreciate the hospitals need the money but it was a vulnerable time for me."
She is one of 20,000 people to sign a petition at the website change.org calling for Bounty reps to be stopped from visiting new mothers while they are confined to their beds in hospital.
Belinda Phipps, is the chief executive of the NCT, a national parent's charity.
Her charity carried out a survey asking mothers how they felt about Bounty sales reps.
Research 'surprising'
"The overall view of the mums who answered our survey was please, let's not have them in the hospital," she said.
Lisa Penney from Bounty said she was "surprised" by the NCT's research.
"We have a strict code of conduct which includes checking with the midwifery teams each morning which mums we may or may not visit.
"We also have a policy which involves not pulling curtains."
She said the company had recently introduced a "how did we do" card which enabled mothers to give feedback.
A counter petition to keep Bounty representatives in hospitals on change.org has reached 100 signatures.