Southampton roads evacuated in heathland fire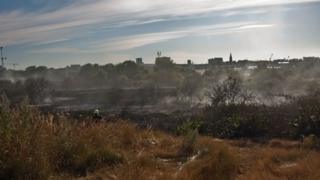 Homes were evacuated in part of Southampton after a large heathland fire on Friday evening.
Police and firefighters were alerted to the blaze in Peartree Green, Woolston, at 17:20 BST. It covered an area of 200m x 400m (656ft x 1312ft).
At its height more than 40 firefighters were involved.
It was extinguished by 20:12 BST and residents have returned to their homes. Hampshire Fire & Rescue said they would not be investigating.
Police evacuated properties on Sea Road, Bryanston Road and Osterly Road, which back onto the heathland, after they were alerted to the blaze by spotting smoke on a nearby CCTV cameras.
A Hampshire Fire & Rescue spokeswoman said: "It is a common and there is probably a lot of wildlife and trees there. The area is now ruined."
She added the cause was unknown but that there was a lot of broken glass found in the area, which could have caused the fire by magnifying the sun's rays.
Incident commander Mickey Smithers said: "Fires in rural areas spread very quickly, particularly in the dry, hot conditions that we have had recently.
"We encourage the public to dispose of cigarettes, barbeques and glass appropriately."