Stanbridge Earls School to close over 'insufficient' pupil numbers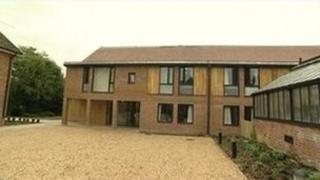 A school criticised for its handling of a pupil's rape claim is to close after "insufficient" numbers of pupils were registered for next term.
Two proposed takeovers of Stanbridge Earls School, near Romsey, Hampshire, recently fell through - one amid concerns over pupil numbers.
On Tuesday, the board of trustees said 82 children had been enrolled.
But it said a maximum of 90 were needed by midday on Friday for it to be "viable".
Parents were originally given Thursday as the deadline to register and pay their fees but this had been extended by a day.
Stanbridge Earls, which caters for children with special educational needs, had 189 registered students in June.
Head teacher Maggie McMurray had said she expected numbers at the £40,000-a-year school to be lower in September.
'Uncertain future'
In a press release, the trustees said it was with "great sadness and deep regret" the school would be closing.
"Despite strong parental support for the school, insufficient pledges had been received by midday today to make the school financially and educationally viable," it said.
"Throughout the past few weeks the trustees' priority has been to find a way forward that is in the best interests of the pupils and the school as a whole.
"Sadly with the withdrawal of two possible organisations to take over in the past fortnight, and faced therefore with an uncertain future, parents have not felt able to commit in large enough numbers for the school to remain open."
The trustees added they would be "working hard" over the coming days to assist parents in finding alternative schooling for their children.
They also thanked parents, pupils and staff during what they described as a "very difficult past six months".
"The school hopes that the privacy of all those connected with Stanbridge Earls will be respected as they seek to find a way forward for themselves in extremely distressing circumstances," they added.
Stanbridge Earls is under scrutiny from the Department for Education, which gave it until the end of the month to present an "action plan" after recent findings by Ofsted.
Last year Ofsted said the school was "outstanding", but a review of the inspections has found they failed to get "underneath concerns".
Police review
A tribunal in January found the school, which caters for pupils aged 10 to 19, had failed to protect a "vulnerable" female pupil.
Her parents started legal action on discrimination grounds after she was excluded, following her claim she had been raped twice by fellow students.
The tribunal heard the school believed she had consented and excluded her for breaking rules by having sex on its grounds.
Three Ofsted inspections since the tribunal's findings revealed serious concerns about safeguarding.
Hampshire Constabulary said it thoroughly investigated the rape allegation but the Crown Prosecution Service decided not to prosecute.
The force has since started a "comprehensive review" into its handling of the case and is investigating the sexual abuse claims by another girl.
However, Hampshire's police and crime commissioner, Simon Hayes, ordered a probe into the county's force on Wednesday after receiving a formal complaint relating to an investigation into a pupil's rape claim.
Mr Hayes' office has refused to reveal details of the complaint, saying it would be "inappropriate", but confirmed another force has been asked to probe the allegations.