Southampton-based identity thief gang jailed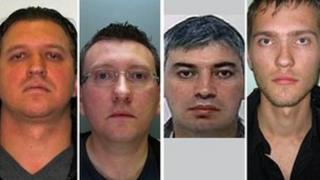 Members of a Southampton-based crime gang who stole more than 3,000 identities to falsely claim £2m in tax rebates have been jailed.
Lyubomyr Sytaiylo, Ruslanas Bobrovas, Besik Zveiba and Kardo Anderson took the identities of Polish people answering classified adverts for work.
They then used them to submit false self-assessment tax repayment claims.
Judge Peter Henry described the plan as "not particularly sophisticated [but] nonetheless outrageous".
He said: "This was a large scale conspiracy to cheat the revenue over five years.
"It was straightforward in concept, but needed a great deal of planning.
"This case is one in my view of serious organised crime."
'Vast sums'
Many of the victims were Polish people who were London-based builders and construction workers, looking for work or advertising their businesses.
The four men flew friends from Lithuania to the UK to open bank accounts and create taxpayer identities from the details, before returning home.
They claimed £2m from HM Revenue and Customs (HMRC), but more than £1.3m was withheld by suspicious officers.
Sytaiylo, who had worked as a tax agent, also hijacked the identities of people who went to him for help.
Zoe Ellerbeck, the HMRC assistant director who oversaw the four-year criminal investigation, said: "This was a blatant, highly-organised attack to defraud the UK tax system of vast sums of money using the stolen identities of unsuspecting people."
Sytaiylo, from London, Zveiba, from Kent Street, Southampton, Bobrovas of The Birches, Southampton, and Anderson, from Radley Terrace, London, and previously of Mansel Road East, Southampton, were sentenced to seven and a half years, four and a half years, six and a half years, and three years respectively, for conspiracy to cheat the revenue.
Anderson will also serve 12 months consecutively for having false documents.