Non-paying customers allowed to use Portsmouth loos in community scheme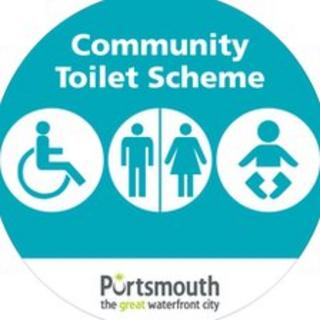 A local authority is urging businesses to let non-paying customers use their toilets because it cannot afford to run as many of its public loos as before.
Portsmouth City Council is urging shops to display the new community toilet sign logo outside their buildings.
It has signed up about 15 members, including Debenhams, Greggs, and the Wightlink car ferry terminal.
Gerald Vernon-Jackson, leader of the council, said it was having to deal with government cuts.
He said: "We can't afford to directly run as many public toilets as we would like.
"This scheme is a sensible way of providing facilities, with community-minded businesses and organisations, where people might need them.
"We're part of the scheme too, because we're opening up toilets accessible to the public in our offices, libraries and museums."
The council said it would check proposed community loos to "ensure that clean, safe and appropriate facilities are provided".
It has to save £30m from its overall budget over the next three years.