Winchester becomes venue for arts event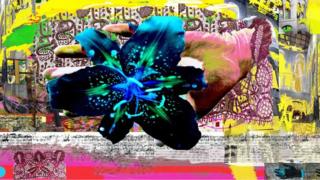 An 10-day art exhibition will open later across Winchester.
Eighteen venues across the city, including its cathedral, will display a range of art from paintings to theatre performances and poetry.
It features contemporary artworks including music made from pouring rain to entombed bees and a giant suspended swimming pool float.
Organisers said they expected the event which takes place every other year to attract around 10,000 people.
The cathedral will host artwork from 47 of the event's 160 artists, including a resident poet.
Rain choir
Sophie Hacker, of the cathedral, said: "The work represents a rich variety of responses to the function, history and message of this great building that beats at the heart of the city."
In the crypt, a rain-"choir"-sound installation made from the recordings of rain falling onto ​the cathedral's guttering can be heard.
A huge swimming pool float suspended from the ceiling of the nave aims to draw parallels between the story of diver, William Walker.
In the early 1900s, huge cracks started to appear in the walls of the cathedral. There were fears that the east end of the building would collapse, after centuries of subsidence.
He worked under water every day in darkness for six years to shore up the walls by placing more than 25,000 bags of concrete under the walls to stabilise the building.
Other works include a live camera projecting people moving through the cathedral onto a large canvas on an easel, over the 10 days the canvas will be gradually painted onto.
Audio archive
The walking trails of visitors through the cathedral will also be used to create a painting over the 10 days.
Elsewhere, the ancient Hospital of St Cross, one of England's oldest continuing almshouses, an exhibition of work by eight artists inspired by its kitchen, beer ​cellar and bread room will be on display.
Visitors to the Jewry Street Gallery will be asked to empty their pockets and share the stories behind the objects to make an audio archive.
Run by a local arts group, with Arts Council funding, the event began in 2009.
Creative Collisions, Winchester opens on 25 October and runs until 3 November.