Southampton Itchen Bridge delays 'ridiculous'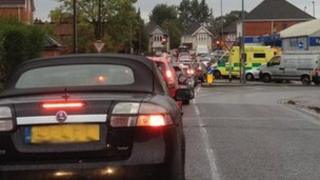 Angry motorists have complained of "ridiculous" delays coming into Southampton after a second morning of travel misery.
A six-month closure of the route from the bottom of the Itchen toll bridge over Central Bridge began on Saturday.
The council apologised on Monday after a "perfect storm", including the poor weather and an accident on the M27, led to long tailbacks.
But drivers complained of similar delays across the city on Tuesday.
Motorist Caroline Taylor called on the council to suspend the work or waive the toll charge for its duration.
She added: "Who was stupid enough to instigate roadworks on the Itchen bridge over the winter?
'Dangerous for cyclists'
"The current temporary [traffic lights] are not favoured for the rush hour traffic with huge tailbacks coming into the city and only a couple of vehicles going the other way.
"Why can't they be like the French and do the works at night? Perhaps some compensation in the form of a free toll for the duration of the works?"
Matt Sparks tweeted: "Roadworks near Itchen Bridge in Southampton are absolutely ridiculous. Took me 90 minutes to get past it."
The work will see a new cycle-friendly junction created after a number of serious accidents over the past three years.
Waterproofing on Central Bridge will start immediately afterwards in order to avoid a second closure later next year.
Transport chief councillor Jacqui Rayment apologised to drivers and added: "[We are] monitoring constantly, adjusting the traffic signals to optimise traffic flow.
"The works being done... are essential in improving safety at the junction - it is currently one of the most dangerous in the city for cyclists."
Last week the local authority was crowned Transport City of the Year for its "impressive" travel programme "benefitting all residents and visitors".