Aldershot woman unveils memorial cloth for stillborn babies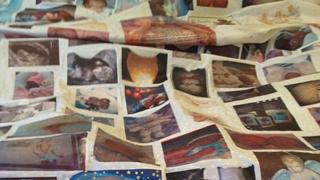 A memorial cloth to stillborn children created with the help of hundreds of grieving families has been unveiled.
The cloth, featuring a patchwork of photographs, was the idea of Angela Roberts from Aldershot, who lost a stillborn twin daughter 30 years ago.
She posted the idea to her global network of families on Facebook and received help from the US to Australia.
She said: "I have been overwhelmed by the response from families from across the world."
'Never be forgotten'
Mrs Roberts has campaigned for a number of years for birth and death certificates to be issued for stillborn children.
She said: "I created the cloth to allow parents to add the faces of their baby.
"After all you can walk away and not take notice of a name, but when you have the faces right in front of you it is very hard to ignore them.
"The cloth we have created will mean our children will never be forgotten."
The cloth, called Veil of Angels Born With Wings to Heaven, now measures 4.3m (14ft) by 1.2m (4ft) after Mrs Roberts posted the idea on her Facebook group page earlier this year.
Mrs Roberts said: "I will continue to campaign for rights for every stillbirth child.
"Everyone is special, everyone deserves to be acknowledged, everyone is an angel."
The cloth was unveiled by the Mayor of Rushmoor, Councillor Terry Bridgeman, during a ceremony at Princes Hall.