Go Rhino charity auction raises £124,700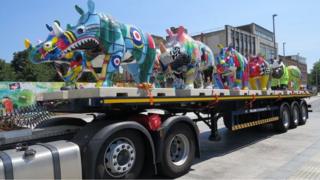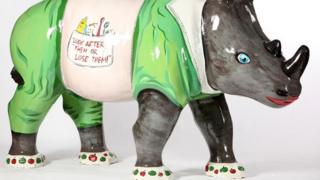 A herd of 36 life-sized rhinoceros sculptures which formed an art trail in Southampton have sold for £124,700 at a charity auction.
John "Rhino" Edwards, bass player with Status Quo bought a green mosaic rhino called Enrhinomental for £4,000.
The highest bid was for Flossy, the dental nurse rhino, by artist Nina Fraser which sold for £9,000.
The fibreglass rhinos were placed around the city to to raise awareness of the plight of rhinos in the wild.
John "Rhino" Edwards said: "As I've been known as Rhino for the last 30 years, we thought we ought to have one.
"It's going to live in our garden."
Other top selling rhinos were Reginald, named after the designer of the Supermarine Spitfire that was built in the city, which sold for £4,250.
Meanwhile mirrored rhino Glint fetched £4,000.
The rhino trail around the city was in place for 10 weeks through the summer and was viewed by about 250,000 people.
Visitors used a map or smartphone app to visit the locations of all the rhinos.
Funds raised from the auction will go to three charities - Marwell Wildlife, The Rose Road Association and Wessex Heartbeat's High 5 Appeal.