Portsmouth World War Two fallen memorial to be completed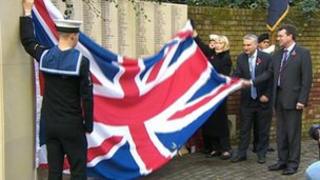 A woman who has spent 24 years fund-raising for a World War Two memorial in Portsmouth is to receive the final amount needed to complete her campaign.
Jean Louth, 80, unveiled a stone panel memorial with 610 names in November 2012 but needed more money to feature all 3,436 names of those from the city killed during WW2.
Portsmouth City Council has now pledged the remaining £27,000 needed.
Mrs Louth, whose father died at Dunkirk, said it was "marvellous" news.
The grandmother, whose father was Bombardier Harry Short, began her campaign in 1989 after realising the Hampshire city had nothing honouring those who fell in the war.
Currently there are 1,949 names listed alphabetically on the Guildhall Square memorial, up until the surname Scott.
'Great injustice'
"So we are almost their with my dad's name [Short]," Mrs Louth said, "which is why I started all this in the first place".
Portsmouth City Council said the funding meant the names would be added in time for next year's commemorations of the 70th anniversary of the D-Day landings.
The project has cost £90,000 in total.
The final plaques will be inscribed early next year, including those of Portsmouth civilians who were killed.
Mrs Louth said the lack of a memorial was "a great injustice".
She added: "These men and women have had to wait so long for their sacrifice.
"Now between us, we have righted this wrong".