Wrongly jailed Anthony Hunt demands apology from Hampshire police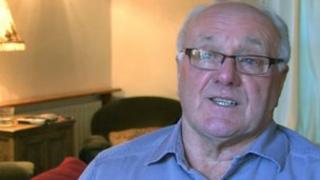 A former traffic warden imprisoned for rape but cleared on appeal, has demanded an apology from police.
Anthony Hunt, 70, from Blandford, Dorset was convicted of raping a woman but was freed after two years when his conviction was ruled unsafe.
North Dorset Conservative MP Bob Walter said it was a "real injustice".
Hampshire Constabulary, which investigated the case, and the Crown Prosecution Service (CPS) said no evidence had been withheld.
Mr Hunt was employed by Hampshire Constabulary in 1995 when he had sex with a police special constable.
He maintained it was consensual, but the woman claimed it was rape. The woman did not report it to police at the time.
Seven years later it was reported by a colleague the woman had confided in. It led to Mr Hunt receiving a four-year prison sentence in 2003.
'Most fighting thing'
The conviction was quashed in 2005 when the Court of Appeal ruled the verdict unsafe, as the judge had not properly advised the jury and new evidence had come to light.
Mr Hunt described his experience in prison as "the most frightening thing you can ever have".
Mr Hunt claims part of the reason he was wrongly charged was because he had upset colleagues in his department when employed by Hampshire Constabulary.
He had a previous claim for compensation turned down in 2010.
"I'd like compensation and my costs and I'd like a completely independent investigation by another force. And I'd really like an apology," he said.
Mr Walter said: "I think there is a real injustice here. The question of why and how Hampshire police operated is something which does need investigation."
Along with Dorset's Police and Crime Commissioner Martyn Underhill, he has raised the case with Policing Minister Damien Green.
Hampshire Constabulary said it had already investigated a complaint by Mr Hunt which was not upheld.
It said it had presented all unused material to the CPS for review.
"Hampshire Constabulary takes all allegations of sexual assault seriously.
"We will always investigate and pursue lines of enquiry and work with partner agencies to support victims and with the Crown Prosecution Service to bring charges and support a prosecution where the evidence exists," a spokesman added.
The CPS said in 2002 it had been satisfied that there was a realistic prospect of conviction.
"No information that could have potentially undermined the prosecution case or assisted Mr Hunt's defence was deliberately or unfairly withheld," a statement said.
The Ministry of Justice said it did not comment on individual cases.