Portsmouth march over BAE shipyard job cuts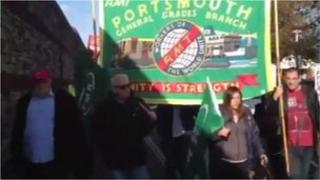 Ship workers who are facing redundancy have held a protest march through Portsmouth.
BAE Systems is cutting 940 jobs at its yard in the city, bringing to an end shipbuilding in Portsmouth.
It was confirmed during meetings earlier in the week that the job cuts would be phased in by 2016.
About 300 demonstrators, some with placards reading "fight for every job", marched through the city from Trafalgar Gate.
'Huge effect'
In a statement Portsmouth Trades Council said: "It is not just the workers and their families who will suffer.
"The knock-on effects for the local economy will be huge and will trigger even more job losses."
A further 835 job losses have also been announced by BAE at sites in Glasgow, Rosyth, and Filton.
Workers across the Scottish and Hampshire sites were told on Thursday that a trawl for voluntary redundancies would begin on Monday.