Brockenhurst thatched roof blaze tackled by firefighters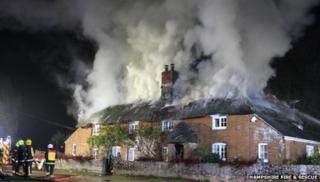 More than 90 firefighters tackled a large fire in a thatched roof which gutted the first floor of a home.
Hampshire Fire and Rescue Service spent six hours using 12 pumps putting out the blaze in the New Forest on Monday.
A spokesman said he "very much doubted" the family could return to the home, in Brockenhurst, in time for Christmas.
He added the "intensity" of the flames led to "a lot of smoke". The family were in the house at the time but escaped unhurt.
The cause is not known but it is thought it might have originated in the chimney.
Fire spokesman Kevin Lloyd-Spencer said the family who lived in the cottage in North Weirs had already got out before crews arrived.
"On this occasion the fire was so intense that the whole roof was involved in the blaze," he said.
"It's a very labour intensive incident we dealt with last night."
Crews from across the forest and Southampton attended and five of them were still there on Tuesday morning damping down.
North Weirs remains closed while they are working at the scene.