MP Caroline Dinenage highlights 'year-long work gap' at Portsmouth dockyard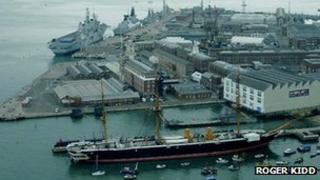 A year-long gap in work at Portsmouth dockyard would be an "additional blow" to the community, the Conservative MP for Gosport has said.
Caroline Dinenage made the comment after raising the issue during at a Commons debate.
It follows an announcement last month that the city will lose its shipbuilding industry.
Ms Dinenage said it now looked as though there was also not enough work in maintenance and repairs.
She described it as an "additional blow to a community which is still reeling after the job losses in shipbuilding".
About 900 jobs are to go at the BAE yard, which employs about 1,200 people.
The Portsmouth site will stay open but with a focus limited to repairs and maintenance.
'Vital role'
Ms Dinenage said there was a "strategic gap" between the completion of refit work on the Type 23 frigates and the commencement of work on Type 45 destroyers.
A spokesperson for the Ministry of Defence (MoD) said: "We regularly review our ship maintenance programme to ensure it sustains key skills in industry, meets the requirements of the Royal Navy and provides value for money for the taxpayer.
"We do not routinely comment on future refit workload ahead of commercial negotiations."
During the debate on future ships for the Royal Navy, Ms Dinenage called on the minister responsible, Philip Dunne MP, to mitigate against the potential of further job losses caused by this break in work.
She also claimed Gosport's fortunes were being held back by the fact that a fifth of the town's land is owned by the MoD.
An MoD spokesperson said the Defence Infrastructure Organisation "works to ensure land is released for disposal as quickly as possible after being declared surplus to military requirements".
Ms Dinenage said the Royal Navy played a "vital role" not just in defence, but also "in protecting trade routes and transporting aid to areas affected by humanitarian disaster".
BAE job losses are expected to be phased in over the next three years and a trawl for voluntary redundancies has already begun.
In a statement, a BAE Systems spokesperson said it was "dedicated" to supporting the Royal Navy surface fleet from Portsmouth Naval Base.