Mary Rose diver Alexander McKee bronze bust to be made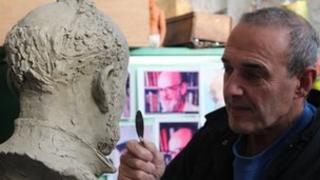 Funds for a bust of the man who spearheaded the search for the Mary Rose warship have been raised.
Campaigners have collected £6,500 for the bronze in memory of amateur diver, Alexander McKee.
A clay mould of his head will be cast in bronze to be displayed at Portsmouth's Mary Rose Museum.
Mr McKee rediscovered the wreck of Henry VIII's flagship, which sank in the Solent in 1545 during a battle with the French, under the silt in 1966.
The museum already has a gallery named in McKee's honour.
The Mary Rose, was finally brought to the surface on 11 October 1982 after 437 years submerged in the Solent.
Mr McKee was awarded the OBE for finding the flagship and died of cancer in 1992 aged 73.